In this online world, the major focus is to grow on digital platforms. For the last five years, brands, businesses, and marketers are aggressively creating digital marketing strategies and expanding their market share on online platforms with robust strategies.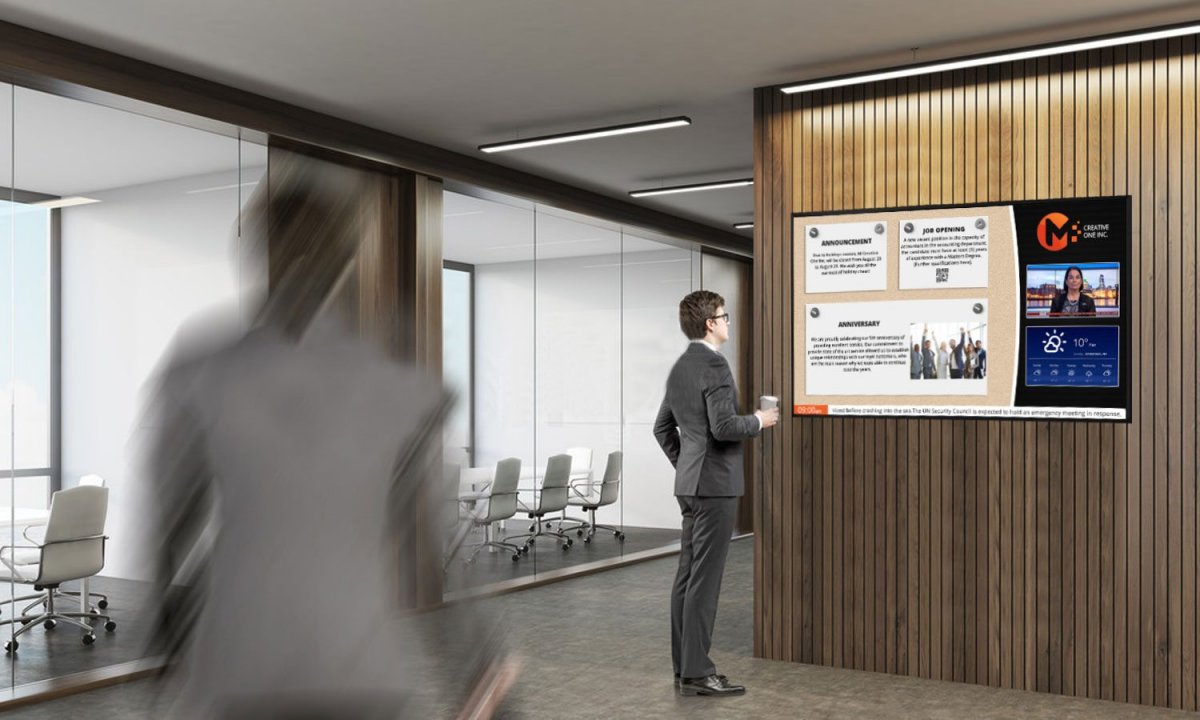 Which is good to grow business reach globally and audience who are actively using online platforms. However, unfortunately, marketers are forgetting their efforts to address the real world. Customers who are around the brand are aware of the exclusive offers, deals, and qualities that a brand is actively providing to its customers.
This is due to the lack of strategic efforts in the offline world. Marketers are not focusing enough on offline marketing strategies.
You might be thinking we are talking here about traditional methods of marketing. No, at all! We are telling you to adopt advanced technologies to make your offline marketing powerful and result-driven.
Yes, we are talking about Digital Signage. Digital Signage is like TV screens that will grab the attention of your customers quickly and effectively engage them with your brand and its products.
Here we are providing the top digital signage solutions provider software that you can use to create robust digital signage content to promote and advertise your business effectively.
What Is Digital Signage Software?
Before we jump into Digital Signage Software, let's first understand what they are and how they are useful for your business.
Digital signage software is the tool through which you can create and manage the content to display on the digital signage screens.
With the help of digital signage, you can create a content playlist that will run on the screen automatically and you don't need to worry about the content displaying on the screen.
Also, digital signage software makes your work easy and simple so that anyone from your team can manage it without needing much technical expertise.
Hence, with the help of digital signage software, your offline marketing efforts get a modernized and technical touch that will definitely attract the audience passing by your store and shop.
So here we go to learn about this digital signage software and how to effectively create a digital signage content strategy.
Top Digital Signage Software Providers In The Market
Taggbox Display
Taggbox Display provides a wide range of digital signage content solutions that includes creation, customization, management, and display in an effortless manner.
Taggbox helps you collect user-generated content from diverse social media platforms and integrate it into your marketing platforms. With Taggbox Display, you can display your collected social media feeds and UGC on digital screens like Digital Signage to interact with your offline audience.
Taggbox Display Studio, which contains multiple features and functionalities allows you to create content other than social wall like promotional digital posters, informative, and engaging content to display on digital signage in a step-by-step process.
Moreover, the star feature of this digital signage software is that you can create diversified content like social media walls, user-generated content, online reviews, as well as promotional content to enhance the experience of the offline audience to boost their experience with your brand.
Taggbox Display helps you to easily display content in the best manner, regardless of screen size and type.
Raydiant
Raydiant renders powerful and empowering digital signage solutions for all types of organizations that build strong and effective relationships with audiences. With this tool, you can easily create interactive and memorable experiences for your customers, employees, and other audiences who come in contact with your digital signage.
Content creation is made easy and interesting with Raydiant for any kind of industry, like hospitality, corporations, schools, etc.
OptiSigns
Are you looking for a solution that helps you manage the digital signage screens remotely? OptiSigns is what you need. With OptiSigns you can leverage digital signage with images, text-based content, videos, and a scheduled content playlist from anywhere.
Some add-on applications that OptiSigns is integrated for better digital signage content creation like Google Slides, social media channels, and other customization options for optimized content on the digital signage screens.
ScreenCloud
ScreensCloud is one of the industry leaders in the digital signage software industry, offering remote content management from any part of the world.
ScreenCloud is an uncomplicated, powerful, and easy-to-manage digital signage software with affordable pricing plans.
From breaking to company updates to promote your products, all can be done with this one tool.
Yodeck
Yodeck is another top tool to manage and integrate content from different platforms on the digital signage screen. You can use it to design and schedule digital signage content in advance.
It is easy for managers to display the content in diverse ways like images, PDF files, documents, social media posts, videos, etc.
The drag-and-drop functionality allows businesses to easily edit and arrange the content in the way they want.
Wrapping Up!
Digital signages are great means to strengthen offline marketing and promotions of businesses. Not only for business, but digital signage is also a powerful tool to enhance hospitality services at hotels, hospitals, spas. Etc.
In restaurants, digital signages are turned into digital menu boards, increasing the number of orders and making the process easy for both customers and workers.
Start utilizing digital signage to boost your marketing and build memorable relationships with your offline audience.